When you're on vacation, every minute is dedicated to you. Whether it's day or night, you can make the trip exclusively yours with activities that are a guaranteed good time. In years past, the Branson nightlife scene consisted mainly of shows and a few local bars and lounges. All of that's changed, though, with the addition of new places and things to do in Branson at night. With so many attractions and activities, the fun in Branson doesn't end once the sun goes down.
During your next vacation to the Ozark Mountains, check out these 6 unexpected things to do in Branson at night.
1) Top of the Rock
At first, the name Top of the Rock might illicit visions of New York City. However, in Branson we have our very own Top of the Rock. The superb views, though, are of the Ozark Mountains and Table Rock Lake rather than skyscrapers and city lights. In addition, Top of the Rock is home to several restaurants, like The Osage, and bars, such as The Buffalo Bar. An absolutely ideal way to spend an evening in Branson is by dining at the authentically crafted Osage, followed by drinks on the patio which features fire-pits, a cozy setting and the perfect setting to watch the sun set.
2) Ernie Biggs Piano Bar
When searching for things to do in Branson at night for the livelier set, Ernie Biggs Piano Bar is it. With a location at the Branson Landing, the bar gives easy access to pre-partying dinner options. If you've never been to a piano bar, prepare for a boisterous crowd! You can tip piano players to play your favorite songs, sing-a-long and generally have a rousing good time. The bar has two levels; I prefer the upper deck for the crowd watching but the club-style seating downstairs is nice too. Either way, when you go to Ernie Biggs Piano Bar you can guarantee the music will be flowing just a smoothly as the drinks.
3) Shepherd of the Hills Homestead
The Shepherd of the Hills Homestead is perhaps the oldest attraction in Branson, Missouri. Its home to the Shepherd of the Hills Outdoor Drama, a classic play based on the novel by Harold Bell Wright. It tells the story of life in the Ozark Hills circa 1900, complete with a cast of over 80 actors, 40 horses, sheep, a log cabin, a 1908 DeWitt automobile, and more. As the show is held outside, it's seasonal with the last performances occurring at the end of October. Don't worry, though! There's more reasons to go to this Homestead. Take a trip to the top of Inspiration Tower, a 230-foot tall enclosed lookout with 360 degree views of Branson. During the Christmas season in Branson, take a tour of the Shepherd of the Hills Trail of Lights. It's an old-fashioned drive through light display sure to add cheer to your holiday vacation in Branson.
4) Copper Run Distillery
Way out yonder, far off the beaten path, you'll find Copper Run Distillery. This is a place to go for true Ozark moonshine and craft cocktails. The location is quaint cabin out in the middle of the woods, where you can sit on a porch and listen to the crickets chirp or stay inside and listen to local musicians. No matter where you sit and sip, a trip to Copper Run Distillery is sure to be a memorable experience.
5) See a Show
Even with all of these things to do in Branson at night, there's no doubt about it: Branson is still a show town. So, it makes sense that one of the most popular activities is seeing a show. Over the years, the Branson show scene has evolved. No longer are there just country music shows to see. Now, shows that bring the biggest audience have a modern feel and feature a variety of music. In addition, theatrical productions have taken the town by storm. For an entertaining night out, these shows are sure-fire picks:
6) Dinner with a View
When the Branson Landing opened 10 years ago, it brought about big changes to the nightlife scene in Branson. With a lakefront location on Lake Taneycomo, and a multimillion dollar fountain show, it's a fabulous place to enjoy dinner with a view. There are variety of restaurants, bars, and attractions at your disposal. You can start your night with dinner at one of these delicious restaurants:
All of these restaurants have lakefront patios, too. Grab a seat outside for an after dinner cocktail, and soak up the starry night. Likewise, all of the mentions above, except Garfield's and Black Oak Grill, are prime spots to view the dazzling fire and light fountain show.
Your night doesn't have to end there. Top if off with a quick, seated zipline over Lake Taneycomo. Or, take to the sky via a tethered balloon ride. Both are operated by Parakeet Pete's, and both are tame yet definitely not lame.
There's So Many Things to Do in Branson at Night
There's no doubt that there's an abundant amount of things to do in Branson at night. While it may be difficult to choose what to do in Branson at night, it's easy to reserve your entire trip with Reserve Branson. Plan your entire trip, from the hotel to the activities, online today.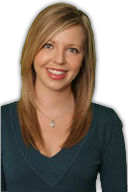 Ashley is Reserve Direct's travel expert, visiting Branson to find the best travel tips, money-saving deals and insider information. With over 10 years of experience in first-hand-travel adventures, she shares her stories, advice, and current events to help you stay in the know.