It's that time of year: Spring is in the air and the great outdoors are calling! Most visitors associate Table Rock Lake with boating, fishing and swimming. But that's not all this outdoor oasis offers. The Table Rock Lakeshore Trail is an ideal place to go for hike. So, lace up your favorite walking shoes and get ready to breathe in the fresh air of Branson.
To make your Table Rock hike easier, follow these tips:
– The main trailhead is located at the Dewey Short Visitor Center in the southwestern corner of the center's parking lot.
– Two other trailheads are located nearby: The Showboat Branson Belle Trailhead and Table Rock State Park Trailhead.
– Parking is available at all three trailheads. Make note the Showboat Branson Belle Trailhead is open only during Branson Belle operating hours and parking can be quite difficult around show times.
– Table Rock Lakeshore Trail is 2.25 miles, and is an easy, paved path suitable for families.
– The trail is wheelchair accessible, and allows for motorized and non-motorized wheelchairs.
– Expect to spot various wildlife along the route. There are chances to see deer, red tail foxes, chipmunks, squirrels, bald eagles, osprey, ducks, cardinals, blue birds, and other species.
– Separated by the lake anywhere from 15-40 yards of trees, views of the lake are sporadic depending on the season but when they're good, they're really great!
– There are glades and dry woodlands on the upper side of the trail with oaks more than 200 years old.
– To view a detailed map of the trail, click here.
Want to explore even more of the great outdoors in Branson? Nearby, there are 11.75 miles of trails in the White River Valley Trail System, consisting of four varied loops, and the Shepherd of the Hills Fish Hatchery has nearly three miles of trails (easy to moderate) through forests and glades.
If you need additional information, you can always call the U.S. Army Corps of Engineers at 417-334-4101 or visit their website.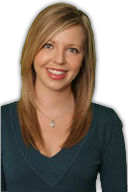 Ashley is Reserve Direct's travel expert, visiting Branson to find the best travel tips, money-saving deals and insider information. With over 10 years of experience in first-hand-travel adventures, she shares her stories, advice, and current events to help you stay in the know.