The Ozarks are an enchanting place to visit during the fall season. One of the attractions where fall shines in Branson is Silver Dollar City. The 1880s theme park fully embraces autumn with themed displays, delicious foods and even a special festival celebrating Americana. With this in mind, here are five things to do at Silver Dollar City this fall you're sure to love.
5 Favorite Things to Do at Silver Dollar City this Fall
1) Attend Fall Festival Events
The National Harvest Festival (also known as the National Crafts & Cowboy Festival) is a salute to the American West. The most exciting part of the festival is the Western Stunt Show, featuring professional stuntmen and women performing amazing feats. Watch 3-story falls, rapid-slide rappels, and good old fashion street fights bring back the wild in Wild West.
2) Watch Craftsmen at Work
Silver Dollar City is known for its talented craftsmen who operate in the park, creating everything from glassworks to knives to jewelry. During the National Crafts & Cowboy Festival, over 125 craftsmen visit the park adding to the amount of talent available. Visiting craftsmen include Best of Missouri Hands Juried Artists and the Table Rock Art Guild.
3) Ride the Frisco Line
The Park operates the Frisco Silver Dollar Line throughout the year. But, it's especially enjoyable during autumn. Take a leisurely 20-minute steam train ride through the beautiful Ozark countryside surrounding Silver Dollar City and get a glimpse of Ozark Mountain fall foliage.
4) Fill up on Fall Treats
One of the best treats to fill up on during fall at Silver Dollar City Branson is an apple dumpling. Surrounded by mounds of cinnamon ice cream, the dumpling hits the spot between sweet, warm and cold, all in one bite. When the weather is a bit nippier, nothing goes better together than hot cocoa and funnel cake.
5) Ride Wildfire
Wildfire, one of Silver Dollar City's premier roller coasters, offers the best views of the surrounding area. Keep your eyes open (if you can!) and take in the colors of the season as you loop through the racing course.
Purchase one or two-day Silver Dollar City tickets to explore all the Branson theme park has to offer.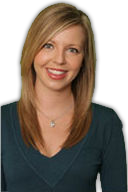 Ashley is Reserve Direct's travel expert, visiting Branson to find the best travel tips, money-saving deals and insider information. With over 10 years of experience in first-hand-travel adventures, she shares her stories, advice, and current events to help you stay in the know.