Looking for a new place to eat while in Branson? You're in luck as Buffalo Wild Wings just opened its doors at the Branson Landing. The wing-serving sports bar is a popular place to catch the game or for a no-frills meal.
Located on the south end of the complex, you'll find the almost 80,000 square-foot restaurant next to Parakeet Pete's Zipline and across from Famous Dave's BBQ. Inside, an onslaught of entertainment awaits you. There are more than two dozen flat screen and projection televisions, video games and trivia competitions. Competition and sports are key to the Buffalo Wild Wings experience, so come prepared to cheer on your team, watch the big game and perhaps challenge your friends to a friendly round of trivia.
Of course, you're here to eat and drink too so let's focus on the menu. I've dined at Buffalo Wild Wings locations many times. What do I order most? Wings! I do prefer my wings boneless, but bone-in varieties are available too.   But the flavors always vary, as there are 21 signature flavors and sauces to choose from. Some of the best, in my opinion, are garlic parmesan, jammin' jalapeno and mango habanero. The wings always make me thirsty (must be the heat!). Buffalo Wild Wings has a respectable beer selection. Domestic, craft and imported brews combine for over 40 brews to choose from, including some of my favorites like Bass Pale Ale, Blue Moon and Sam Adams.
If you're craving something other than wings Burgers, sandwiches, ribs and other bar-fare items are up for grabs too. The Buffalo Chicken Ranch Sandwich and Southwest Chicken Queso Wrap are solid options. Plus, they come with fries. Salty, just-greasy-enough delicious fries. Can you tell I like their fries???
Stop in to watch the game. A bite to eat. Or a drink after a long day. You'll be glad you did!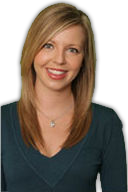 Ashley is Reserve Direct's travel expert, visiting Branson to find the best travel tips, money-saving deals and insider information. With over 10 years of experience in first-hand-travel adventures, she shares her stories, advice, and current events to help you stay in the know.