Tours in Branson Missouri
When you're on vacation in the Ozarks go on one of the Branson Tours available. Explore the scenic side of Branson as well as the natural landscapes of the area with tours in Branson. You never know what you'll discover during a tour of Branson.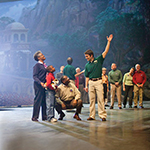 Sight & Sound Theatre • Branson, MO 65616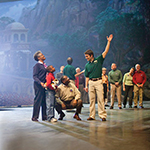 Behind the Scenes Tour
Join us for a 60-minute, actor-guided tour! Actors are your guides for this close-up look at how our shows happen. Learn about set contruction, sound, lighting, cast dressing rooms, animal actors' areas and more!

A million watts of lights - sixty-thousand watts of sound - and a stage over twenty-thousand square feet in size: shows at Sight & Sound Branson Theatre are live theatre productions on a massive scale.

Now, you have the exclusive opportunity of going backstage in our Behind The Scenes Tour. Discover the technology and ingenuity that powers the dramatic complexity of each show. You'll visit the nerve centers that keep the lights, sound, stage - and even animals on cue. You'll also glimpse a state-of-the-art scene shop creating sets for upcoming shows. Learn about the process involved in bringing a story to life, and step up to the stage for an actor's view at our incomparable Branson Theatre.

March 21, 2017 thru December 12,2017 1pm tour time.
You Save:
$0.00

Select Tickets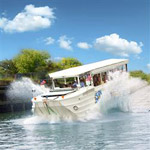 2320 W. Hwy. 76 • Branson, MO 65616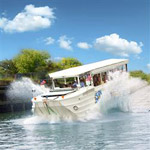 Laugh and Learn by Land and Lake on this quack-tastic sightseeing adventure. Get a duck's-eye view on our 70 minute tour through the Branson Entertainment District, over Table Rock Dam and through the beautiful Ozarks. Fun for all ages, this amphibious vehicle makes its rolling entrance into Table Rock Lake.

Every sightseeing adventure includes about 30 minutes on beautiful Table Rock Lake, a scenic, natural, Ozark treasure. During the lake cruise, you can take the wheel of your Duck as it tours the calm and clear waters of Table Rock Lake.

You Save:
$1.00

Select Tickets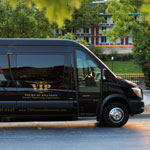 VIP Tours of Branson • 1600 W Hyw 76 • Branson, MO 65616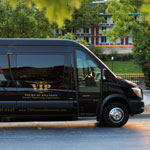 You will sample the tastes of the Ozarks with one of our experienced local guides as they take you on a tasty tour of Branson's finest wineries and distilleries, including a delicious dinner at one of the area's top eateries. And, you will roll like a VIP in our Mercedes Sprinter. These tours are limited to just 18 passengers, so you'll get a personal experience from our guide, as well as area Wine Makers and Chefs and Service Personnel.

~ Our Exclusive Winery/Distillery/Dinner Tour Includes:

Transportation on Our 18 Passenger Mercedes Sprinter Coach
An Entertaining and Experienced Local Guide
Food and Drink Included
Wine and Spirits Sampling at Crown Valley Distillery
Distillery Tour of Crown Valley Distillery
Wine Sampling at Stone Hill/Curling Vine Winery
Wine Sampling at Mount Pleasant Winery
Discounts on Merchandise at Distilleries and Wineries
Includes a 3 Course Gourmet Dinner at Branson's Famous Black Oak Grill Overlooking Lake Taneycomo at Branson Landing
Incredible Photo Ops including the Scenic Overlook of 300' tall Table Rock Dam
Historic Downing Street in Hollister, MO
Historic Downtown Branson Main Street
Other Attraction Locations
Learn your Way Around, and Through, the Famous Branson Traffic
History of Branson and Local Attractions
And More…
You Save:
$0.00

Select Tickets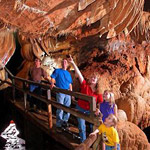 423 Fairy Cave Lane • Branson West, MO 65737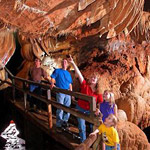 Talking Rocks Cavern is open year round. The gift shop opens daily at 9:30 a.m. Talking Rocks Cavern is vertical in nature, and has concrete handrails and steps throughout the cave. People of all ages go into our cave on a regular basis where they can enjoy the comfortable 62 degree cave air.

The hour long tour of Talking Rocks Cavern is what we refer to as "edutainment." By this, I mean that we focus on education, as well as entertainment. It is educational in nature, as you will learn about the caves discovery and related history, as well as learn about the mineral deposits and other geological information while on your tour. The tour is also entertaining. Our cave guides are ready to answer questions that you may have, and can find answers to those questions that they may not already know.

Talking Rocks Cavern was first named "Fairy Cave" by the early cave developer, Turman Powell, after he first explored the cave. His comment was that it looked like "a subterranean fairy land". The caves name was changed to Talking Rocks Cavern in 1969 when Silver Dollar City purchased the cave. They chose to change the name based on a quote from Waldo Powell, son of Turman Powell. Waldo would spend a lot of time looking at the rocks and mineral deposits in the cave, and noted that the physical evidence in the cave would tell him a story about how it formed...thus, it was inspiration for the new name "Talking Rocks Cavern."

We have a SpeleoBox crawl maze, nature trail and lookout tower, and picnic areas that are free to our guests. We offer Gemstone mining (aka: sluicing); just purchase a bag of gemstone mix, mine this in our sluice operation, and keep all the gemstones you find!

Tickets are valid any day of travel. One hour guided tours depart frequently all day.
You Save:
$1.00

Select Tickets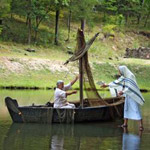 935 Passion Play Road • Eureka Springs , AR 72632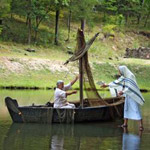 Located in Eureka Springs on the Great Passion Play campus 48 miles South of Branson, MO, The Holy Land Tour allows you to step back in time and experience the people of the Bible first-hand in the Holy Land Tour in this interactive experience.

The Holy Land Tour is open on the same days as performances of The Great Passion Play from 12:00 pm until the last tour at 4:30 pm (12:00 pm to 4:00 pm after Labor Day). Located in Eureka Springs, Arkansas.

Tours are given by a single guide on days the play is not performed. This happens throughout the year at 10:00 am and 2:00 pm except for Sundays and holidays.

The Holy Land Tour provides visitors of all ages with the unique opportunity to experience the people, culture, and history of the ancient Middle East. On this approximately 2 to 2.5-hour interactive Biblical teaching tour, you will explore the ancient Middle-Eastern culture in which Jesus was raised and will meet characters from the time of Moses to the time of Christ.

Everyone in your group will enjoy the educational and inspirational experience of the Holy Land Tour on our comfortable bus. As you tour through the New Holy Land, your Guide will explain each exhibit and will stop along the way to allow you to meet Biblical characters who will help you understand the living history of the scriptures.

Each of the individual exhibits in the Holy Land Tour has been researched for historical accuracy and have been recreated as authentically as possible. Some stops on the Holy Land Tour include:

Speaking with a "Levitical Priest" in the full-scale replica of Moses'


Tabernacle in the Wilderness


Visiting a replica of a first century Inn typical of the type where Mary and Joseph may have asked for shelter


A first-century stable typical of where Jesus was born


Walking beside the "Sea of Galilee" with Simon Peter as he speaks of his last days with Jesus


Visiting the upper room where Jesus and his disciples feasted for the Last Supper
You Save:
$0.75

Select Tickets


Now Searching...

---

"

Fast and easy. Trustworthy. No problem with tickets at gate.

"
–
Kansas City, MO
Read More »