Recreation Attractions in Branson Missouri
Enjoy a day of recreation in Branson! Attractions in Branson, Missouri offer plenty of ways for families to have fun together. Choose a recreational attraction to enjoy during your visit to see all the ways to play in Branson.
FEATURED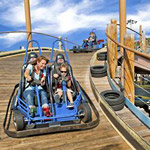 2505 West 76 Country Blvd. • Branson, MO 65616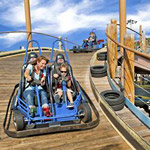 The Track Family Fun Parks is celebrating 30 plus years of offering family entertainment in Branson with no gate admission.

Track Locations:

Track 3 - 2505 W. 76 Country Boulevard


Track 4 & The Branson Ferris Wheel - 3345 W. 76 Country Boulevard


Track 5 - 3525 W. 76 Country Boulevard


The Track at Pirate's Cove - 2911 Green Mountain Drive


A Story at Every Turn! Experience 3 unique high-rise go-kart tracks, including the Heavy Metal High Rise and the 2 wooden tracks, Wild Woody and The LumberJack. Enjoy classic go-karts for all ages, laser tag, bumper boats/cars, kids' rides, the high-speed sprint track, the 100-foot-tall skycoaster, mini golf, batting cages, Route 76 indoor glow golf, laser maze challenge, arcades, and more at 4 Branson locations.
NEW! Chicago's Navy Pier Ferris Wheel is now named The Branson Ferris Wheel. The wheel stands 150 feet high with 40 gondolas & 16,000 NEW LED lights! Don't miss "Electrify"; A Music & Light Spectacular on The Branson Ferris Wheel.
If your entire family wants to have a blast together, try the Go-Card with 160 credits on the card. The entire family shares ONE card - no need to buy more than one. With this card, you receive 50% off on any additional credits you purchase until December of this year. These credits are valid on all rides and attractions, including arcades and kids' rides.
EXCLUDES the skycoaster, batting cages and The Branson Ferris Wheel
. Please note, you will receive a discount by showing your card on the skycoaster and Ferris wheel.
Another option is the 2-Ride or 4-Ride Track Card. These Track Cards are valid on the high-rise/classic go-karts, laser tag, bumper boats/cars, batting cages and mini golf.
Please note that the 2- and 4-Ride cards exclude the skycoaster, kids' rides, The Branson Ferris Wheel and arcade games, and that these cards do NOT have half-price buying power like the Go-Card.
You may purchase more than one of these cards.
At The Track, you'll find the fun you're looking for no matter your age. Kids feel like grown-ups, and grown-ups act like kids –
the way it should be
. Don't act your age, just drive!
Please confirm operating schedules for each location as schedules for each vary. Operating schedule subject to change without notice due to inclement weather and/or crowd levels.
You Save:
$0.15

Select Tickets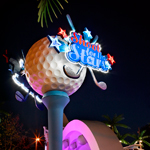 3110 West 76 Country Blvd • Branson, MO 65616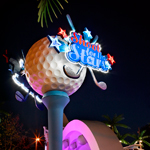 Putt Your Way to Fame! Experience the famous landmarks of Hollywood as you take the 18 steps to becoming a star. From Being Discovered to earning your very own star on Hollywood Boulevard, your wisecracking agent, Marty McBooster, guides your journey past Grauman's Chinese Theatre, Capitol Records, the Hollywood Bowl, and more, with hilarious words of advice at each hole.

You'll putt through palm trees and parties, as your hairdresser charges $600 for a coif and your limo driver carries your bags on Rodeo Drive. Of course, on your journey to stardom, not every step is a "hole in one". As tabloid headlines threaten and charity brunches loom, Marty talks you through auditions, talk shows, awards ceremonies, and more. Tons of exciting photo opportunities along the way.

Enjoy a final tally of your Star Status at the Star-O-Meter, determined by your last putt. Modeled after Hollywood's art deco Crossroads of the World with its famous spire, the Star-O-Meter lights up higher and higher on the spire to show your ranking, from one star (Overexposed) to four stars (Legendary). Twenty-four shooting stars, 8,000 animated LEDs and coordinated sound effects are used to create the spectacular finish.

Fun for all ages is par for the course!
You Save:
$0.75

Select Tickets


Now Searching...

---

"

Very easy to use. I did make a mistake and they helped me correct it. Very nice people.

"
–
Plattsburg, MO
Read More »