Branson Go Karts
Spend some time at the Go Kart tracks during your next Branson, Missouri vacation. Branson Go Karts are the perfect way to spend an afternoon with friends or family. Try out the Go Karts at The Track or go extreme at the Xtreme Racing Center and drive up to 40mph. Buy Go Kart tickets in advance for best deals.
FEATURED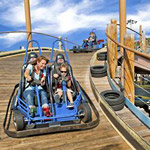 2505 West 76 Country Blvd. • Branson, MO 65616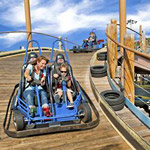 The Track Family Fun Parks is celebrating 30 plus years of offering family entertainment in Branson with no gate admission.

Track Locations:

Track 3 - 2505 W. 76 Country Boulevard


Track 4 & The Branson Ferris Wheel - 3345 W. 76 Country Boulevard


Track 5 - 3525 W. 76 Country Boulevard


The Track at Pirate's Cove - 2911 Green Mountain Drive


A Story at Every Turn! Experience 3 unique high-rise go-kart tracks, including the Heavy Metal High Rise and the 2 wooden tracks, Wild Woody and The LumberJack. Enjoy classic go-karts for all ages, laser tag, bumper boats/cars, kids' rides, the high-speed sprint track, the 100-foot-tall skycoaster, mini golf, batting cages, Route 76 indoor glow golf, laser maze challenge, arcades, and more at 4 Branson locations.
NEW! Chicago's Navy Pier Ferris Wheel is now named The Branson Ferris Wheel. The wheel stands 150 feet high with 40 gondolas & 16,000 NEW LED lights! Don't miss "Electrify"; A Music & Light Spectacular on The Branson Ferris Wheel.
If your entire family wants to have a blast together, try the Go-Card with 160 credits on the card. The entire family shares ONE card - no need to buy more than one. With this card, you receive 50% off on any additional credits you purchase until December of this year. These credits are valid on all rides and attractions, including arcades and kids' rides.
EXCLUDES the skycoaster, batting cages and The Branson Ferris Wheel
. Please note, you will receive a discount by showing your card on the skycoaster and Ferris wheel.
Another option is the 2-Ride or 4-Ride Track Card. These Track Cards are valid on the high-rise/classic go-karts, laser tag, bumper boats/cars, batting cages and mini golf.
Please note that the 2- and 4-Ride cards exclude the skycoaster, kids' rides, The Branson Ferris Wheel and arcade games, and that these cards do NOT have half-price buying power like the Go-Card.
You may purchase more than one of these cards.
At The Track, you'll find the fun you're looking for no matter your age. Kids feel like grown-ups, and grown-ups act like kids –
the way it should be
. Don't act your age, just drive!
Please confirm operating schedules for each location as schedules for each vary. Operating schedule subject to change without notice due to inclement weather and/or crowd levels.
You Save:
$0.15

Select Tickets
Receive $10.00 off each ticket for every 1 Adult: 52'' or taller (11+ yrs) ticket purchased.

Applies to:
X-Treme Package admission type(s).
Dates of Use:
For use between March 03, 2017 and April 30, 2017.
Purchase Dates:
Must purchase at least 1 day in advance of use, no later than March 31, 2017. Some black-outs may apply. Book Now »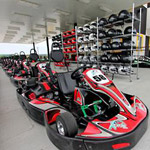 Adventure Ziplines of Branson • 3600 W. Hwy. 76 • Branson, MO 65616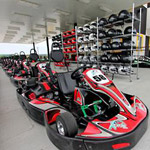 The fastest karts in Branson — world-class Sodi high-speed racing karts! Get your race on only at Xtreme Racing Center!

There are three different types of racing carts available at Xtreme Racing Center. It does take some skill to drive these carts on the 3,500-foot winding track. Therefore, you do have to qualify to drive them. The qualification process involves driving the GT5, showing drivability and good lap time. Racing chips in the carts keep track of lap time and are kept on the racer's driving profile. All drivers must qualify in the GT5 kart before racing the X-Treme Kart.

Adult and Youth racers must be at least 52" tall to race on the adult course. Kid racers must be at least 48" tall to race on the junior course. Safety requirements allow for our Pit Crew members to have sole discretion in determining all racers' ability to reach the pedals and steering wheel. Closed-toed shoes are highly recommended to race our karts. Balaclava's (head socks) are required to be worn inside our helmets. Helmets are provided. No double carts available.


Now Searching...

---

"

I called 3 times and each time the customer service rep was kind and answered my questions. The last person helped my print all of my tickets. I couldn't figure out how to get the first ticket to print but she walked me through what to do and stayed on the line until I found out if I was able to print correctly. I will be sure to share you web address in the future. Since we live in the midwest many folks that i know go to BRANSON for a short vacation. Thanks!

"
–
Kansas City, KS
Read More »