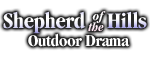 Shepherd of the Hills Outdoor Drama
in Branson, MO
THE SHEPHERD OF THE HILLS OLD MILL THEATRE
•
5586 W. Hwy 76
•
Branson
,
MO
65616
About Shepherd of the Hills Outdoor Drama
At The Shepherd of the Hills Outdoor Theatre, Harold Bell Wright's epic story of love, loss, power, hardship, and the true meaning of life is immortalized. It takes over 80 actors and actresses, 40 horses, a flock of sheep, several guns and rifles, an actual burning log cabin, and a vintage 1908 DeWitt automobile to make the live action performance the legend that it is today.

Since our first season in 1959-60, the outdoor drama has entertained millions of Branson visitors. People who came to see the show as children come back to bring their own families. The cast members exhibit the loyalty and affection they have for the story itself. Several of them have been in the drama since its inception. The Shepherd of the Hills is not just another Ozarks show - it is the story of the Ozarks.


Shepherd of the Hills Outdoor Drama Frequently Asked Questions
How long is the Shepherd of the Hills Outdoor Drama production?
The show is two hours.

Will the show be called off if it rains?
The Director of our show makes the determination when inclement weather threatens theperformance. If it becomes necessary to cancel the performance, the decision will likely be made by one hour prior show time. Guests with tickets will be able to exchange those tickets for another performance or receive a full refund.

Is the drama appropriate for young children?
Our show is very popular with families because of the action and live animals.

Are we required to walk from our car to the outdoor theater?
We have jeep-drawn trams that pick visitors up in our parking lots and run directly to the theatre so there is very little walking involved.

Is there wheelchair access at your theater?
We do have wheelchair seating. Our jeep-drawn trams are equipped with ramps and our drivers are trained to assist with loading and unloading wheelchairs.

How is the amplification in the theater? Will I be able to hear the actors?
Each of our actors wears a tiny wireless microphone and we have a state-of-the-art sound system so you should be able to clearly hear even the smallest whisper.

Will the Sons of the Pioneers Chuckwagon Dinner Show be concluded in enough time to also attend The Shepherd of the Hills Outdoor Drama?
The Sons of the Pioneers Chuckwagon Dinner Show will be let out in plenty of time prior to the start of The Shepherd of the Hills Outdoor Drama. Trams will be waiting outside the Pavilion Theatre to transport all dinner show guests who also have tickets to the drama.
You Save:
$0.00

Select Tickets
Select a Date and Time to Continue:
Select a Ticket Date and Time to continue.

View Full Schedule