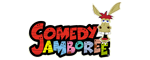 Comedy Jamboree
in Branson, MO
Grand Country Music Hall
•
1945 W 76 Country Blvd
•
Branson
,
MO
65616
About Comedy Jamboree
A rollercoaster of laughs, comedy, music, dance and family fun!
Starring funny guys, Applejack, Harley Worthit, and Stretch McCord; the Jamboree Singers; pianist extraordinaire, Tracy Heaston, and the award winning Grand Band.
From hilarious, clean comedy, floor-pounding clogging and dancing, to today's country hits, this show is a HOT TICKET! For an amazing afternoon of fun, the Comedy Jamboree is a MUST SEE. You will laugh until it hurts!
Comedy Jamboree News
Comedy Jamboree Frequently Asked Questions
What is the size of the Grand Country Music Hall, home to Comedy Jamboree?
The theater has 476 seats.

How many rows constitute your theater?
There are a total of 20 rows.

What is the length of the intermission at Comedy Jamboree?
The intermission is 15 minutes.

What type of parking do you have?
The parking at the Grand Country Music Hall is flat, level parking.

Approximately how long is the Comedy Jamboree Show?
The show lasts approximately 2 hours.

Is there a pre-show guests should be aware of?
Yes. Comedians are in the audience welcoming guests and cracking jokes about 15-20 minutes prior to show time.

Are visitors allowed to meet and greet the performers?
Yes. Visitors can meet and greet the performers of Comedy Jamboree at intermission & after the show.

Are cameras, audio or video recording allowed at the Comedy Jamboree?
Still photography is allowed. However, audio and video is strictly prohibited. Video of the show is available for purchase.

Where is the Grand Country Music Hall located?
We're located in the same building as Grand Country Buffet. Therefore, there's added convenience to add lunch or dinner to the experience. Also, we're the only theatre open year-round to enjoy high quality entertainment.

What type of handicap seating/handicap accessibility do you have?
There is disabled seating available and our theater is completely handicap accessible.
You Save:
$0.00

Select Tickets
Select a Date and Time to Continue:
Select a Ticket Date and Time to continue.

View Full Schedule
Recommended by:

We love working with Reserve Branson! They will take excellent care of you and we look forward to having you at Grand Country Music Hall!

Heleena Campbell
Box Office & Theatre Group Sales Manager
Grand Country Music Hall