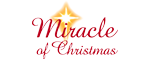 Miracle of Christmas at Sight & Sound Theatre
in Branson, MO
Sight & Sound Theatres®
•
1001 Shepherd of the Hills Expressway
•
Branson
,
MO
65616
About Miracle of Christmas
Miracle of Christmas at Sight & Sound Theatres
November 4 – December 30, 2017
After decades of crushing Roman rule, the Hebrew people are losing hope.
When will the promised Messiah come?  Into the midst of this turmoil, young Mary is told she will bear God's son. Angels in heaven proclaim his
birth;  humble shepherds and regal kings pay him homage.  
Clearly this is no ordinary child! But who is he - really?
Is he the Messiah, our Savior?  Who can even believe such a thing!
Witness the story that is central to the season, brought to life.
Miracle of Christmas News
Select a Date and Time to Continue:
We're sorry. This product is unavailable for your date range.