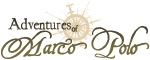 Adventures of Marco Polo
in Branson, MO
White House Theatre
•
2255 Gretna Road
•
Branson
,
MO
65616
About Adventures of Marco Polo
In 1271 A.D. the Italian explorer, Marco Polo, made his legendary trip to the ancient eastern mysterious nation of China. Following his father and uncle who were businessmen, their journey started from the West moving across the Middle East and finally overcoming many difficulties, arrived in China.
In the marvelous land of China, Marco Polo witnessed the vast grassland, the majestic palace of Yuan Dynasty, the beautiful watery countryside and articles like the magic compass, soft silks and the skilled craftsman.
All of these strange but miraculous images gave this Italian explorer a feeling of freshness and excitement he had never before experienced. Even after he came back to Venice he could not forget the civilized openness of Yuan Dynasty and the love from a Mongolian princess he experienced on that trip.
The Adventures of Marco Polo is an epic tale of exploration and wonder, love and loss with a cast of over 60 worldwide performers, magnificent sets and costuming!
Adventures of Marco Polo News
Adventures of Marco Polo Frequently Asked Questions
Is there a pre-show guests should be aware of at Adventures of Marco Polo?
There is not a pre-show.

Are visitors allowed to meet & greet the performers?
Yes. The audience can meet the stars of the show after the show in the lobby.

Are cameras, audio or video recording allowed at the show?
Cameras are allowed, but no flash photography is permitted. Audio & Video recording is strictly prohibited.

What is the length of your intermission?
Intermission is 10 minutes.

What is the size of the White House Theatre?
The theater seats about 1200 people.

Approximately how long is the Show?
The show is approximately 2 hours long.

What type of parking do you have?
There is plenty of free parking available to guests.

What type of handicap seating/accessibility do you have?
The theater is handicap accessible, and can accommodate handicap patrons with special seat requests.
Select a Date and Time to Continue:
We're sorry. This product is unavailable for your date range.