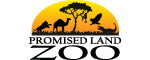 Promised Land Zoo
in Branson, MO
2751 Shepherd of the Hills Expressway
•
Branson
,
MO
65616
About Branson's Promised Land Zoo
Home to hundreds of rare and endangered animals from around the world! Come out and see all that we have to offer in our Foot Safari, interactive Live Animal Shows, Parakeet Paradise and Bottle Feedings too! We also have a petting zoo area where you can feed lots of animals too.

Exclusive Encounters with select species are available; ask a zookeeper how you can participate in a once-in-a-lifetime encounter today! There is always something happening at Branson's newest and wildest attraction. All guests will receive a wristband for all-day-access, so feel free to come and go as you please.

New at the Zoo for 2015 we have a Lion and Tiger Exhibit, Kangaroo Encounters, Reptile Encounters, New Bird Exhibits, New Show Animals and much more!


As always, the Foot Safari, Live Animal Shows, Bottle Feedings and Parakeet Paradise are INCLUDED in your admission! Group rates are available. Show and bottle feeding times available throughout the day. Please check for daily show times and bottle feeding times.

Currently Live Animal Shows are Saturdays at, 11am, 1pm,and 3pm Sundays at 11am and 3pm and Bottle Feeding Babies at 10am, 2pm & 6pm. Last admission is at 5pm.
Branson's Promised Land Zoo Frequently Asked Questions
Approximately how long does it take to tour Branson Promise Land Zoo?
It takes at least 2 hours or more depending on how much time you spend at each exhibit.
Is the bottle feeding included in my admission ticket?
Yes, you get the opportunity to feed baby zebra, camels, watusi, goats, deer and more?! This activity is always included in your admission and offered at select times throughout the day (10am, 2pm & 6pm, subject to change).
What kind of animals will I see on the Foot Safari?
We currently have on display numerous antelope, zebra, kangaroo, big cats, medium cats, baboons, spider monkeys, lemurs, and many other groups of animals including deer, prairie dogs, capybara, porcupines and large variety of petting zoo animals like alpacas, goats, ect.
Can I feed the animals?
You can feed (with food purchased from PLZ) many of our creatures.
Can I feed the birds in Parakeet Paradise?
Yes, each admission receives one parakeet stick for the birds. Additional parakeet sticks are available for 2/$1.

Is the Exclusive Encounter included with my admission ticket?
No, this is an additional fee. Reservations are required by calling the Zoo directly.
You Save:
$0.00

Select Tickets
Select Tickets to continue.

View Full Schedule
You Save:
$0.00

You Save:
$0.00

General
Admission valid for a wristband with all day access.
Close