Shows with gatlin brothers in Branson, Missouri
Your search for "gatlin brothers" yielded the following 2 results: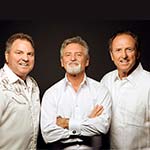 Dick Clark's American Bandstand Theatre • 1600 W 76 Country Blvd. • Branson, MO 65616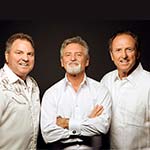 Over 50 years ago, Larry, Steve, and Rudy Gatlin started singing in their little hometown of Abilene, Texas, and from there went on to make music history. Over the course of a four-decade career that has taken the Gatlin Brothers from dusty Texas stages to White House performances, from Broadway to Grammy Awards to the top of the country charts, there has been one unifying element, music. There's no harmony quite as pure as family harmony. "Gatlin harmonies spin with high and light precision and their music bleeds and screams of love and a lot of living" said Country Capsule in New York. Larry, Steve, and Rudy love to sing together. Raised on Gospel music, the brothers first began entertaining audiences in churches and then with guest appearances on the Slim Willet radio and TV shows in Abilene, Texas when they were 2, 4, and 6 years old. Larry says that their history as "gospel music junkies" came from those early roots. "My folks took us to those old fashioned Southern style quartet concerts, and it was love at first sound! My first hero was James Blackwood of the Blackwood Brothers Quartet-I just knew somehow from that moment that I wanted to be a singer for the rest of my life."

After high school, Larry went to the University of Houston on a football scholarship. He majored in English and quickly developed "a love affair with the English language" that later served him well in his songwriting. On the strength of his song writing talents and exceptional vocal ability, his life was changed by the legendary Dottie West who saw gold just under the unpolished surface of young Gatlin. The early 70's found Steve and Rudy in college while Larry, aided by West, moved to Nashville to write songs that would be recorded by names like Johnny Cash, Kris Kristofferson, Barbara Streisand, Tom Jones, and yes, Elvis Presley.

In 1972, Larry landed a solo deal with Monument Records through friend Kris Kristofferson and invited his siblings up to Nashville to sing backup on his first two albums—1974's The Pilgrim and 1975's Rain Rainbow. The release of The Pilgrim landed Gatlin his first hit with "Sweet Becky Walker," and then found himself at #1 on the charts the next year with "Broken Lady," a song that captured him a Grammy in 76'. The same year all three brothers were inducted into the Grand Ole Opry. 1977's High Time, credited to "Larry Gatlin with Brothers and Friends," featured the No.1 hit "I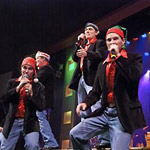 Hughes Brothers Theatre • 3425 W Highway 76 • Branson, MO 65616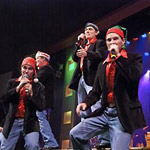 This show is a triumph of everything you want to feel at Christmas time!

In November and December, the Hughes Brothers and their families bring you the season's best vocal harmonies, festive surprises, and treasured family traditions. See Santa in a new light as he explains the symbols of Christmas in the most moving Christmas presentation you've ever witnessed.

From Santa to a living nativity scene this is the One Christmas Show you'll want to share with your family!

Awarded Branson Christmas Show of the Year seven times.

Guest can choose to enjoy dinner and a show or get tickets to the show only. The choice is yours!

Hughes Brothers Dinner & Show:

Dinner starts at 6:30 P.M. and is up in our Balcony. When we reserve folks for the dinner theatre they will remain in the Balcony for the show. (If you'd like seating on the floor level for the show please make note of that in your reservations.) These are great seats and the view is incredible. It's a real fun experience.

Please do not arrive at the theatre prior to 6:15

Adult Dinner Menu:
Garden Fresh Salad
Tender Pork Loin and
Hickory Glazed Chicken Breast (and yes you get both)
Red Potatoes
Green Bean Almandine
Hot Dinner Roll / Butter
White Chocolate Champagne Cake
Beverage of Water, Coffee, Tea or Lemonade

Child Dinner Menu:
Chicken Fingers
French Fries
Green Beans Almandine
Dinner Roll / Butter
Cookie
Beverage

A meal is NOT offered prior to the 2:00 pm show. Dinner starts at 6:30 P.M.

We look forward to seeing you!


Now Searching...

---

"

Very easy to use. I did make a mistake and they helped me correct it. Very nice people.

"
–
Plattsburg, MO
Read More »